Sikkil C. Gurucharan - DHI Artist in Residence, 2023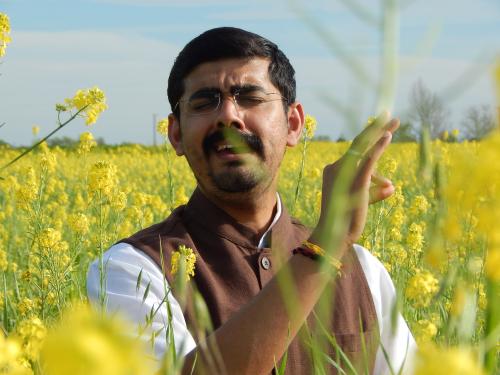 Sikkil C. Gurucharan is a leading musician and a youth ambassador for Carnatic music. A prime time artist during the Chennai music season and a recipient of numerous awards including the prestigious Ustad Bismillah Khan Yuva Puraskar Award, Kalaimamani and Tchaikovsky Award for the best musician of the year among many, Gurucharan has not only made a mark in the traditional concert paddhati style but also worked to broaden audience appeal by creating collaborative projects with world renowned musicians while retaining the spirit of the art form. In 2015, Gurucharan received a Nehru-Fulbright Excellence Award, and was in residence at UC Davis between January and April 2015.
The album "Miles from India", a collaborative effort, was nominated for the Best Contemporary Jazz Album at the 51st Grammy Awards. The magazine India Today featured him among 35 Game Changers under the age of 35 in India. The Tamil Nadu Government conferred its highest honour of Kalaimamani on Gurucharan in 2020. He has also acted in two Tamil movies, Sarvam Thala Mayam and Putham Pudhu Kaalai.
Events & Programming
Thursday, April 20: 6:30 PM
Concert Pandya Nadu through Music
Part of the Pandya Nadu workshop at Harvard University
Listen to the Concert HERE
Tuesday, May 9: 9-10:20 AM Guest lecture in Prof. Scott Linford, World Music
Pitzer Hall
Email: Scott Valois Linford
Topic: Introduction to the Carnatic music tradition, or to the paddhati style more specifically, or about your own career and collaborations.
Tuesday, May 9: 12:00-1:30 Concert in Pitzer [Bijam: Musical Seeds]
Topic: In Sanskrit, the word bijam means seed and grain, and by extension, origin, cause, and the germinal element. With the musical notes as bijam (seed), Sikkil Gurucharan's concert will cultivate for our audience a broad appreciation of south Indian theories of cultivation--of the land, of music, of taste, and of the self.
Learn more here.
Listen to the concert here.
Thursday, May 11: 10:00-11:30 Guest lecture in Prof. Lynna Dhanani's class Music, Voice and Word
207 Wellman
Email: Lynna R Dhanan
Topic: Introduction to the concept of sacred sound in Carnatic music and the mechanics of music (raga and tala); a sampling of the variety of musical compositions that would work well for an introductory session; bhajan and bhakti as exhibited by Tyagaraja and other great south Indian music composers.
Thursday, May 11: 12:00-1:30 Podcast Recording with Natalie Robertson
Thursday, May 11: 3:10-4:30 Guest Lecture in Dr. Layne Little's class | Indian Popular Religious Art
Art 217
Email: Layne Little
Topic: Songs on Bharata Mata/Tamil Tay
Tuesday, May 16: 12:10-3:00 pm. Guest lecture, Grad. Seminar in Prof. Henry Spiller's class on composers and compositions, with a focus on 18th century composers.
230 Music Building
Email: Henry Spiller
Topic: how compositions are notated and performed; something about the legacy of Carnatic composers, especially the great 18th-century saint composers; the role of composition in contemporary classical Carnatic practice; and practical aspects of Carnatic performance practice.