PUBLIC SCHOLARSHIP WORKSHOP SERIES
Winter 2023 and Spring 2023
The UC Davis Humanities Institute (DHI) is pleased to offer hybrid workshops in winter and spring 2023 to train graduate students in the practical applications of a public humanities education. This four-part series of public scholarship workshops will be mandatory for the incoming 2023 Graduate Public Scholars cohort, but is also open to other graduate students in the arts, humanities, and humanistic social sciences. Each larger session will feature a scholar-practitioner guest speaker who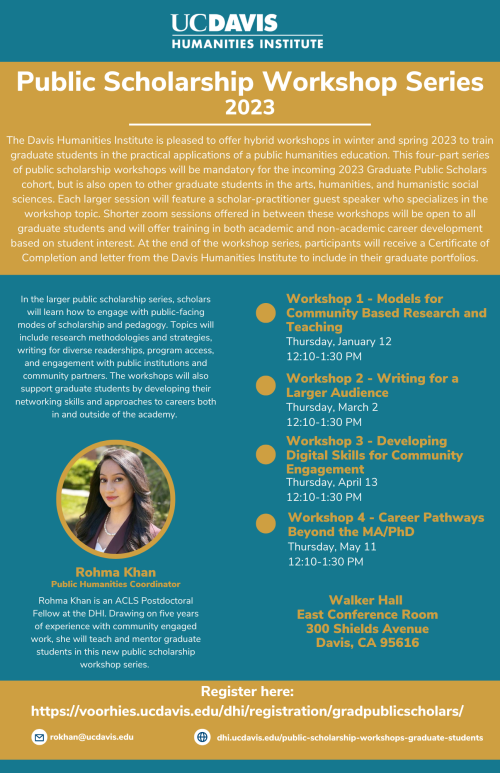 specializes in the workshop topic. Shorter zoom sessions offered in between these workshops will be open to all graduate students and will offer training in both academic and non-academic career development based on student interest.
In the larger public scholarship series, scholars will learn how to engage with public-facing modes of scholarship and pedagogy. Topics will include research methodologies and strategies, writing for diverse readerships, program access, and engagement with public institutions and community partners. The workshops will also support graduate students by developing their networking skills and approaches to careers both in and outside of the academy. 
Students participating in the workshop will receive a Certificate of Completion as well as a letter from the DHI to include in their portfolios.
The workshops will be run by Dr. Rohma Khan, ACLS Emerging Voices Program and the DHI's Coordinator of the DHI's Public Humanities Program. Learn more about Dr. Khan here. For more information about the program, please contact Rohma Khan at rokhan@ucdavis.edu.
REGISTER HERE to participate in this workshop. Registration closes on Tuesday, January 10 at 11:59 PM
Workshop I: Thursday, January 12
Models for Community Based Research and Teaching
Learning how to move research off the page. How do we implement a community engaged project? How do we apply lessons learned from the public humanities to work outside of academia?
Workshop II: Thursday, March 2
Writing for a Larger Audience
Translating academic research, writing, and teaching for diverse readerships. How do we push boundaries with writing? How do we adjust our writing for different audiences?
Workshop III: Thursday, April 13
Developing Digital Skills for Community Engagement
Introducing a variety of digital methods to develop graduate student portfolios. How do we use digital tools for research and public facing projects? 
Workshop IV: Thursday, May 11
Career Pathways Beyond the MA/PhD
Identifying transferable skills from graduate programs and using them to apply for jobs outside of academia. How do we find contacts, conduct informal interviews, and negotiate for the job we want?