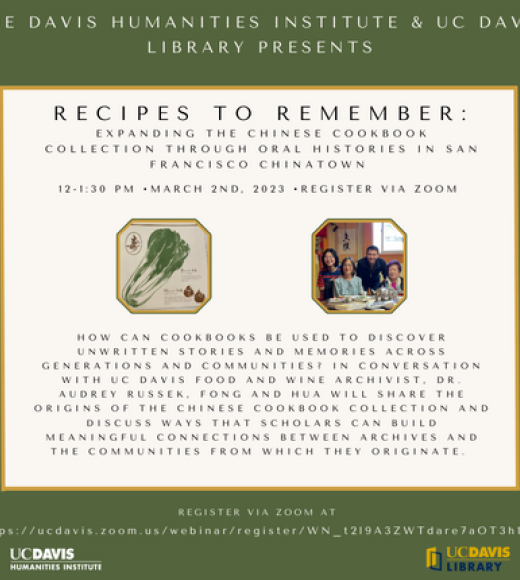 The UC Davis Library holds the second largest collection of English language Chinese cookbooks in the United States. In this webinar, join UC Davis PhD candidates Ben Ruilin Fong and Tianyun Hua to learn about this unique collection and how it forms the foundation of their community-based research project, which explores connections between contemporary San Francisco Chinatown and people featured in the historical cookbook collection's texts and images. How can cookbooks be used to discover unwritten stories and memories across generations and communities? In conversation with UC Davis Food and Wine Archivist, Dr. Audrey Russek, Fong and Hua will share the origins of the Chinese Cookbook Collection and discuss ways that scholars can build meaningful connections between archives and the communities from which they originate. Using examples from unique books, letters, and visual artifacts, Fong and Hua will explain how their project unfolded based on the cookbook collection, their efforts to renew the archive with newly-acquired oral histories from Chinatown residents, and how their discoveries speak to the relationship between food culture and identity. This project also illustrates the present-day value of archival materials and their contribution to public scholarship.
This Cultivation webinar is a partnership between the DHI and UC Davis Library. It is the first in a three-part series on "Recipes to Remember," which will be followed by a podcast series and library exhibit in Spring 2023.
Watch the recording here.