Food for Thought: Facts & (Science) Fictions
A Passing Through Project

conceived by visual artist Amanda Trager
Co-sponsors: The Manetti Shrem Museum and California Humanities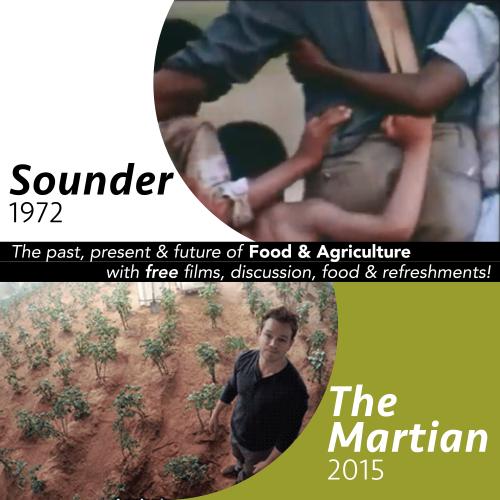 This series of events, spanning one weekend (June 23-25), is a platform for discussion arising from viewing two films, Sounder (1972) and The Martian (2015), which will be screened outdoors at Esther's Park, in Sacramento, California. The films provide an anchor for an in-depth discussion between scholars, farmers, and community members around the history of farming and agriculture, with an emphasis on sugar and the ongoing story of Black contribution.
Building one upon the other sequentially, the events will also function autonomously. Whether attendees come to one or all, the experience will be rewarding. Some of the events will include snacks and refreshments suggested by the films.
Passing Through Projects (PTP). Food for Thought: Facts and (Science) Fictions is part of an initiative by artist Amanda Trager. Inaugurated in 2019 in New York City, PTP partners with local institutions to create public platforms for critical community engagement around particular topics with discussions and varied activities prompted by the screenings of popular films. Events happen in convivial, outdoor settings, and engage with the specific places where they take place.
+ + + + + + + + + + + + + + + + + + + + + + + + + + + +  
Schedule of Events June 23—25 
Sacramento, California
DAY 1: The Past 
Friday, June 23
6:00pm to 10:00pm
Esther's Park, 3408 3rd Avenue, Sacramento
6:00pm to 6:30pm | | | Amanda Trager Opening Remarks
6:30pm to 8:00pm | | | Genesis Lara & Wilson Sefo Michel's presentation will help place the intermingled legacies of Black family life and the role of sugar and slavery explored in Sounder within a transatlantic perspective through a focus on sugar, family and labor in the Dominican Republic. Q&A.
8:00pm to 10:00pm ||| Screening: Sounder (1 hour/45 min)
For this event we encourage attendees to bring their own movie-watching snacks.
+ + + + + + + + + + + + + + + + + + + + + + + + + + + +  
DAY 2: The Present
Saturday, June 24
11:00pm to 4:00pm
Esther's Park, 3408 3rd Avenue, Sacramento
11:00am to 12:30am | | | Ashanté Reese shares her current research on the cultural history of sugar in relation to the "sometimes contradictory and deadly sweetness that marks Black life," with reference to the program's films, followed by a conversation with UC Davis professors, Kimberly Nettles-Barcelon and Erica Kohl-Arenas. Q&A.
12:30PM to 1:30PM  FOOD TRUCK Soul Ona Roll
1:30pm to 2:30pm | | | Judith and Chanowk Yisrael (Yisrael Family Urban Farm) bring aspects of the history of sugarcane in the U.S. South into the present time through discussion of urban farming — which includes their own personal story as well as that of Booker T. Whatley, George Washington Carver, and Booker T. Washington. Topics include the history of the CSA movement and how Black farmers introduced solutions to the problem of soil depletion.
2:30pm to 3:30pm | | | A sugarcane refreshment is served. Dennis Snydor (Renegade Dining)
3:30pm to 7pm  BREAK
7:00pm to 9:30pm (sunset) ||| Screening: The Martian (2 hrs/20 min)
+ + + + + + + + + + + + + + + + + + + + + + + + + + + +  
DAY 3: The Future
Sunday, June 25
11:00pm to 2:00pm
The Brickhouse Gallery & Art Complex, 2837 36th Street, Sacramento
11:00am to 12:30pm | | | Carlos Monleon Gendall, visual artist, in conversation with Amie Breeze Harper regarding Science Fiction and agriculture, with focus on the work of Octavia E. Butler. Gendall will also describe his 10-year+ project on growing wine on Mars. Q&A
12:30 to 1:00pm | | |  Martian Potato Salad is served.
Dennis Snydor (Renegade Dining) 
1:00 to 2:00pm | | | Amie Breeze Harper reads from her new book (in progress), Seeds of Sankofa.
___________________________________________________________
The films. A near half-century divides the release dates of Sounder and The Martian; a hundred years separate their storylines. Despite these divergent timeframes, both films turn on a life-and-death necessity to grow food in extreme environments and circumstances.
In Sounder, the Morgans, a Black sharecropping family, struggle to avert starvation by growing sugarcane on depleted soil in Depression-era Louisiana. Much as they long to send their gifted son David Lee to school full-time, they desperately need him on the farm. Cicely Tyson and Paul Winfield both received Oscar nominations for their performances, and the film was nominated for Best Picture and Best Adapted Screenplay. In 2021, the film was selected for preservation in the United States National Film Registry by the Library of Congress.
The Martian takes place in the near future and chronicles astronaut-botanist Mark Watney's attempts to stay alive on Mars — where he has accidentally been left behind by crew mates during a violent storm. Waiting for rescue, his only hope for survival is to successfully grow potatoes inside his vessel's artificial habitat. The Martian received praise for its direction, visual effects, musical score, screenplay, and scientific accuracy, and won numerous, notable awards. Directed by Ridley Scott, it features a powerful cast that includes Matt Damon, Jessica Chastain, Kristen Wiig, Kate Mara, Sean Bean, and Chiwetel Ejiofor.
___________________________________________________________
BIOS
Génesis Lara, PhD (History, UC Davis) is a current Postdoctoral Associate in Latinx Public History at Boston University and the National Archives. In the Fall 2023, Dr. Lara will be an Assistant Professor of Chicano/Latinx Studies at the University of California, Irvine. Dr. Lara's research focuses on Afro-Latinx Studies, Caribbean social movements, gender and diasporic studies.
Wilson Sefo Michel has served as an organizer, supporting causes for Black social justice movements, labor and education struggles in the Dominican Republic and the United States. Mr. Sefo Michel has also volunteered as a humanitarian aid worker in Haiti. He brings his knowledge and experiences regarding Black farming and sugar cultivation to the Food for Thought symposium.
Ashanté Reese is assistant professor of African and African Diaspora Studies at The University of Texas at Austin. Broadly speaking, Dr. Reese works at the intersection of critical food studies and Black geographies, examining the ways Black people produce and navigate food-related spaces despite anti-Blackness. Animated by the question, who and what survives?, much of Dr. Reese's work has focused on the everyday strategies Black people employ while navigating inequity. Her first book, Black Food Geographies: Race, Self-Reliance, and Food Access in Washington, D.C., takes up these themes through an ethnographic exploration of anti-Blackness and food access. Black Food Geographies won the 2020 Best Monograph Award from the Association for the Study of Food and Society. Her second book, Black Food Matters: Racial Justice in the Wake of Food Justice, is a collection co-edited with Hanna Garth that explores the geographic, social, and cultural dimensions of food in Black life across the U.S.
Currently, Dr. Reese is working on a project tentatively titled, The Carceral Life of Sugar in which she explores the spatial, economic, and metaphorical resonance of the plantation in the early 20th century convict lease system in Texas and the ongoing carceral significance of sugar in everyday (Black) life.
Kimberly Nettles-Barcelon is an Associate Professor in the African American & African Studies Department at UC Davis. Her research and writing interests are in Black women's resistance throughout the African Diaspora. She is also a scholar of critical food studies with a particular focus on race and gendered representations of Black women and food in popular culture. Nettles-Barcelón has published an auto-ethnography of her travels to gather the life-history narratives of Guyanese women activists in her Guyana Diaries: Women's Lives Across Difference (Left Coast Press, 2008) and articles in Social Movement Studies and Meridians: feminism, race, transnationalism. In addition, she has articles that think through the significance of Black women's work with food as a form of cultural and political resistance, with pieces that have appeared in the critically acclaimed journals Gastronomica: the Journal of Critical Food Studies and BOOM: A Journal of California. Nettles-Barcelón serves as a Book Review Editor for Food and Foodways, a refereed, interdisciplinary, and international journal devoted to publishing original scholarly articles on the history and culture of human nourishment.
Erica Kohl-Arenas is an Associate Professor in American Studies at the University of California, Davis and the Faculty Director of Imagining America: Artists and Scholars in Public Life. Based on an early mentoring relationship with the late Myles Horton of the Highlander Center in Tennessee, all of Kohl-Arenas' work is inspired by the principles of movement building, popular education and liberatory pedagogy. As an organizer, popular educator and researcher, she has worked with farmworker and immigrant organizations in California's Central Valley, in the coal-mining towns of Appalachia, in California urban public schools, and, internationally, in southern Africa, Scotland and Wales. Kohl-Arenas was the inaugural recipient of The New School's Achievements in Social Justice Teaching Award (2014), and received The New School Distinguished University Teaching Award (2016) as faculty at The New School in New York City, where she was awarded tenure in May 2017. She now teaches courses on California social movements and public scholarship at UC Davis.
Judith and Chanowk Yisrael run Yisrael Farms, which started as a half acre urban farm nestled in the heart of Sacramento and has now grown to multiple locations. Their farm is a sustainable community resource, a story of love, perseverance, and reverence for the earth's rhythms.
Carlos Monleón is an artist currently based in Madrid. He holds an M.A in Design Interactions from the Royal College of Art and a Bachelors of Fine Arts from the Chelsea College of Art in London. Monleón has developed projects internationally in different institutions and galleries, such as Autoitalia, Seventeen Gallery and Diaspore Project Space, London; HIAP Helsinki; Hangar, Lisbon; The Istanbul Design Biennial, Tallin Art Biennial, LUMA Arles, Cráter Invertido, México, and at a national level at Matadero in Madrid, Ca2M, La Casa Encendida, among others.
Amie Breeze Harper has a PhD in the social sciences, with emphasis in intersectionality, anti-racism and racial-gender inclusion/equity. She holds a MA in Educational Technologies (emphasis in racial-gender inclusion/equity in technology) from Harvard University, where she received the Dean's Award for her masters thesis work on how racial-gender privilege operates in cyberspace forums.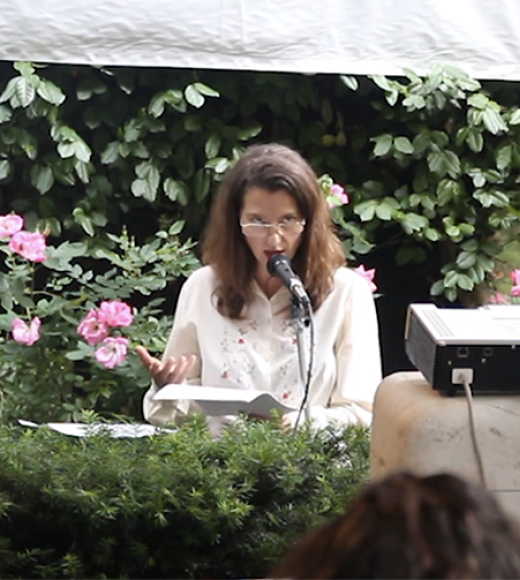 Amanda Trager is a visual artist. Her work as a cultural producer, of which Passing Through Projects is a part, exists along and outside of her 15-year artistic practice with Erik Moskowitz.
Her cultural production work began with the "Nassau Street Show," an art exhibition organized with Jean-Michel Basquiat that occupied fugitive space in a 19th-century Lower Manhattan office building. Other venues have included The Vera List Center for Art and Politics, The New School for Social Research (NYC), and Los Angeles Contemporary Archive (LACA). Grants and awards include the Artist Community Engagement Grant from the Rema Hort Mann Foundation (2017), support from The Ida and Robert Gordon Family Foundation (2020), and most recently, the Scotia Scholars Award from Research Nova Scotia, the Joseph Beuys Memorial Scholarship, and a Fellowship with the Institute for the Study of Canadian Slavery (2021-22) — all connected to her pursuit of a Master's Degree in Art Education at NSCAD University (Halifax).