CULTIVATION:
Food, Farming, and Heritage in the Sacramento Valley and Beyond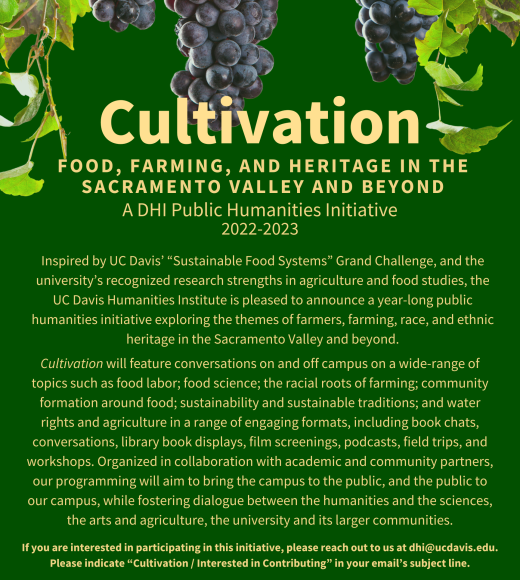 Inspired by UC Davis' "Sustainable Food Systems" Grand Challenge, and the university's recognized research strengths in agriculture and food studies, the UC Davis Humanities Institute is pleased to announce a year-long public humanities initiative exploring the themes of farmers, farming, race, and ethnic heritage in the Sacramento Valley and beyond.
Cultivation will feature conversations on and off campus on a wide-range of topics such as food labor; food science; the racial roots of farming; community formation around food; sustainability and sustainable traditions; and water rights and agriculture in a range of engaging formats, including book chats, art events, conversations, library book displays, film screenings, podcasts, field trips, and workshops. Organized in collaboration with  academic and community partners, our programming will aim to bring the campus to the public, and the public to our campus, while fostering dialogue between the humanities and the sciences, the arts and agriculture, the university and its larger communities.
If you are interested in participating in this initiative, please reach out to us at Davis Humanities Institute. Please indicate "Cultivation / Interested in Contributing" in your email's subject line.
Fall 2022 Events
Book Chat with Prof Frances Dolan: Digging the Past
Wednesday, Nov 9
5:30-7:00 PM
International House, Davis
Winter 2023 Events
Chinese Cookbooks in the UC Davis Library Special Collections
Thursday, March 2, 12:00-1:30 pm
Webinar - Watch the recording here.
Spring 2023 Events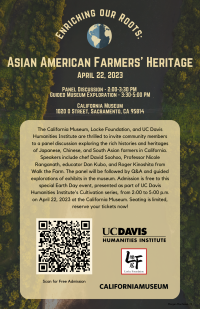 Enriching our Roots: Asian American Farmers' Heritage
Saturday, April 22 (Earth Day),
2:00-3:30: Panel Discussion followed by Q&A
3:30-5:00: free guided exploration of "Gold Mountain" and "Uprooted!" exhibits at California Museum
Auditorium in the Secretary of State Building, 1020 O Street, Sacramento, CA 95814
Bijam: Musical Seeds: South Indian Classical Vocal Concert
Sikkil C. Gurucharan
Tuesday, May 9
12:10-1:30
Pitzer Center, UC Davis
Punjabi Farmers of the Sacramento Valley
May 15-May 19
Food for Thought: Facts & (Science) Fictions
One weekend of public events organized by visiting artist Amanda Trager
Friday June 23-Sunday June 25
Co-sponsors: The Manetti Shrem Museum and California Humanities
Esther's Park, Sacramento
PODCAST RESOURCES
Consider the Pomegranate (Episode 1: Story of Iran)
Learn about the significance of the pomegranate to Iranians, peoples of the Persianate world, and to the Iranian diaspora through this conversation between Prof. Amy Motlagh and Prof. Persis Karim.
Home Style Cooking: A Podcast Connecting Past and Present in San Francisco Chinatown [Coming Soon]
Benjamin Fong and Tianyun Hua
Tags