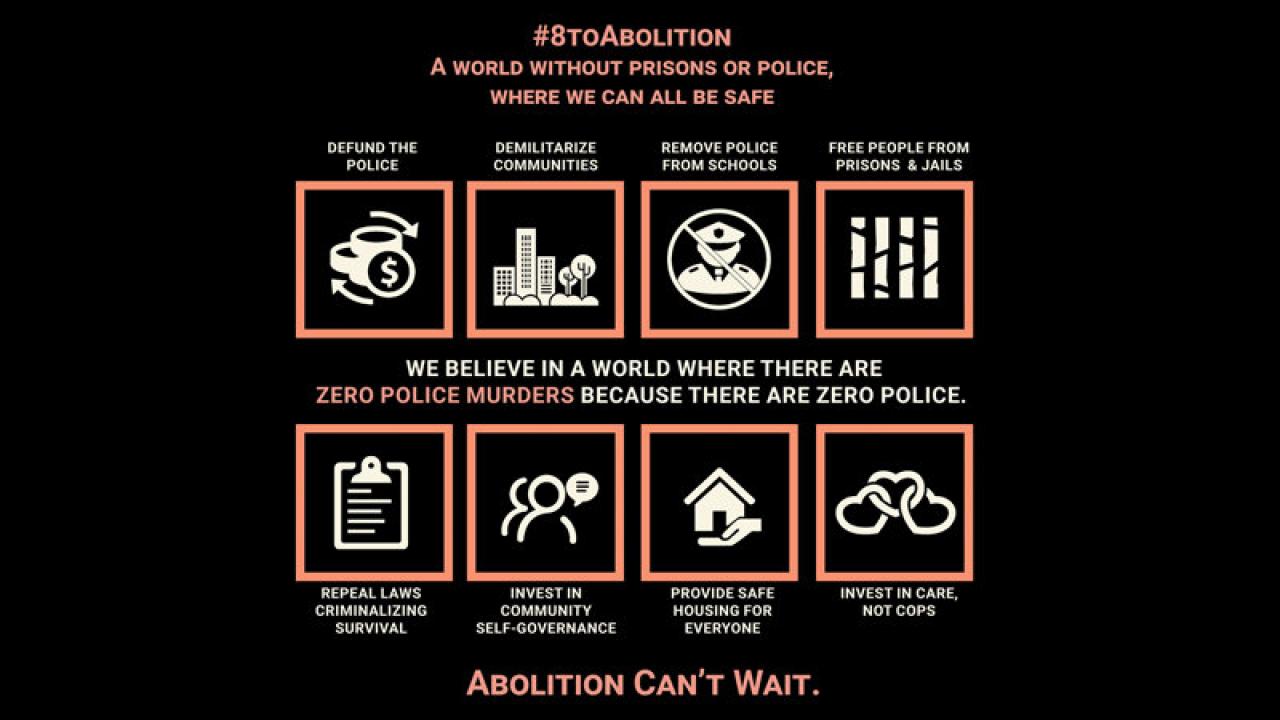 This event has passed. Please view it on our YouTube page.
Americans are on the edge. Amid deepening economic austerity and the expansion of carceral technologies, the U.S. government's manipulation of the COVID-19 crisis has deepened the fault-lines of racialized valuation and the population's differential exposure to mortality. Astonishingly, the convergence of the health crisis and the visual mediation of antiblack policing in the U.S. has created the conditions for mass revolt. In this conversation, scholar-activists Andrea Boyles, Ofelia Cuevas, and Erin Gray discuss the resurgence of Black movements against policing since the May 25 killing of George Floyd. Drawing on their research on racialized state violence, Professors Boyles, Cuevas, and Gray will discuss the structural relationship between enslavement, policing, and racialization; root current calls to abolish police in the 400+ years movement to end slavery; and contemplate what forms of solidarity and sustainability are necessary to defend Black lives and protect the current upswell of revolutionary energy from the forces of co-optation.
Andrea S. Boyles is a feminist, race scholar – a sociologist and critical criminologist. Her work accounts for social inequality and (in)justice relative to Black citizen-police interactions; neighborhood disorder and disadvantage; community development and engagement; and resilience and collective action. Boyles has served in various capacities in academia and worked with corporations and organizations, including but not limited to, American Airlines, Amnesty International, and National Organization of Black Law Enforcement (NOBLE).  Boyles is also author of You Can't Stop the Revolution:  Community Disorder and Social Ties in Post-Ferguson America (UC Press, 2019) and Race, Place, and Suburban Policing:  Too Close for Comfort (UC Press, 2015).
Ofelia Ortiz Cuevas is an interdisciplinary scholar in the Department of Chicana/o Studies at UC Davis. Her research is at the intersections of Critical Race Studies, Visual and Cultural studies and Geography and Law. Her work focuses on race, prisons and policing interrogates the critical questions; what lives constitute an ethical crisis? And what is the contemporary value embedded in the practice of racial violence? She is currently completing her manuscript, Visuality of Violence: Watching and Witnessing the Policing of Race, which maps the historical continuities and discontinuities of policing and state violence on the material and discursive terrains of law, visual cultural productions and raced populations. She is also at work on a second book, Policing L.A.'s Human Terrain: The Criminal Non-Human at Point Zero, which examines Los Angeles County jail as a critical point on the city's cartography of productive human terrain.
Erin Gray is a post-disciplinary writer and assistant professor of Black literary and cultural studies in the English department at UC Davis. Writing and teaching at the intersections of critical theory and cultural studies, her research interrogates the aesthetic production of racist and anti-racist thought in the long twentieth century. Erin's current book project, The Moving Image of Lynching, is an abolitionist critique of U.S. lynching culture that theorizes the co-emergence and continuing imbrication of lynch law and racial liberalism as constitutive elements of U.S imperial power. Her co-edited anthology, The Black Radical Tradition in the United States, is forthcoming from Verso Press in 2021. She has published essays in GLQ: A Journal of Lesbian and Gay Studies, Open Letter: A Canadian Journal of Writing and Theory, The International Feminist Journal of Politics, Truthout, and Viewpoint.
To register for the event:
ttps://ucdavis.zoom.us/webinar/register/WN_pjfso9hOTzWzlyWv3XPG0w