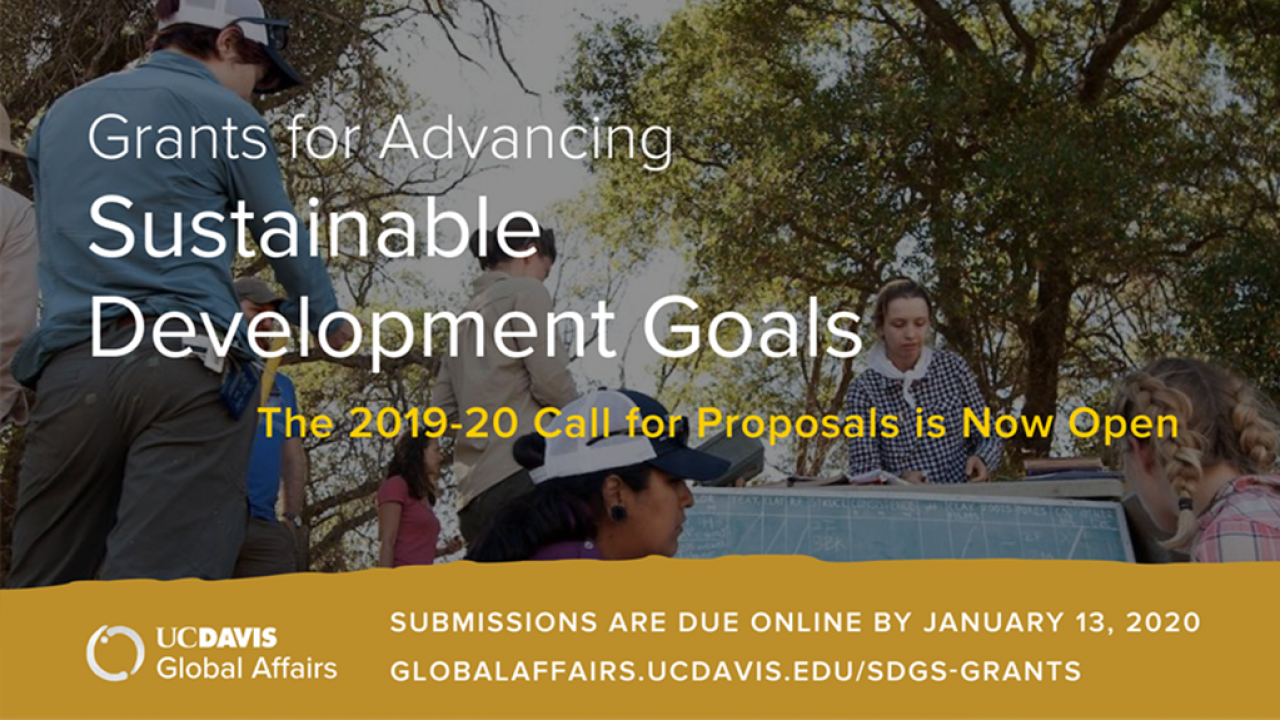 Global Affairs is pleased to announce a new grant to promote multidisciplinary collaborations focused on one or more of the United Nations Sustainable Development Goals (SDGs). The Grants for Advancing Sustainable Development Goals (GASDGs) facilitate faculty work on the economic, social, and environmental issues inherent in the SDGs and that are critical to humankind at the local, regional, national, and international levels. These challenges are complex and interlinked, and to address them requires multi-disciplinary, transdisciplinary, multi-stakeholder collaborations. UC Davis is committed to contributing to the achievement of these goals through research, teaching, and service.
The purpose of the GASDGs program is to advance global conversations and incentivize collaborations among interdisciplinary teams of UC Davis faculty and international partners to contribute to the achievement of the SDGs. Proposals might achieve this in different ways: by generating collaborations around one or more SDGs focused on a particular region of the world (e.g. in Latin America, Asia, Europe, Africa, etc.); by advancing partnership around one or more SDGs with an institution abroad; or by exploring how one or more of the SDGs provides a common language for tackling challenges both locally and globally. Faculty are encouraged to design creative projects, new collaborative research proposals aimed at securing external funding, new collaborative teaching initiatives, or other ways to support innovative solutions to global challenges.
Grant funding supports workshops, seminars, speaker series, or other similar events taking place either on the UC Davis campus or in other venues around the world in which UC Davis is a visible lead organizer.   Up to four grants of $7500 per accepted proposal will be awarded.
UC Davis Academic Senate and Academic Federation members from any UC Davis location are eligible to apply. Successful proposals will include a minimum of three faculty, preferably from different disciplines and two of whom must be UC Davis faculty. Ideally, faculty teams will include at least one international collaborator. Including undergraduate and graduate students in grant activities is highly encouraged, but they may not serve as project leads.
Proposed activities should take place between March 2020 and March 2021.
Global Affairs encourages applications for proposals that:
Foster interdisciplinary interaction among UC Davis faculty working in more than one department, college, or school.

Involve graduate and/or undergraduate students.

Advance existing and/or build new partnerships with institutions abroad focused on one or more SDGs.

Offer promise for an ongoing collaboration with a global component.

Involve at least three faculty members as sponsors.
The deadline to apply is January 13th, 2020.
View the full call for proposals here. 
Event Category