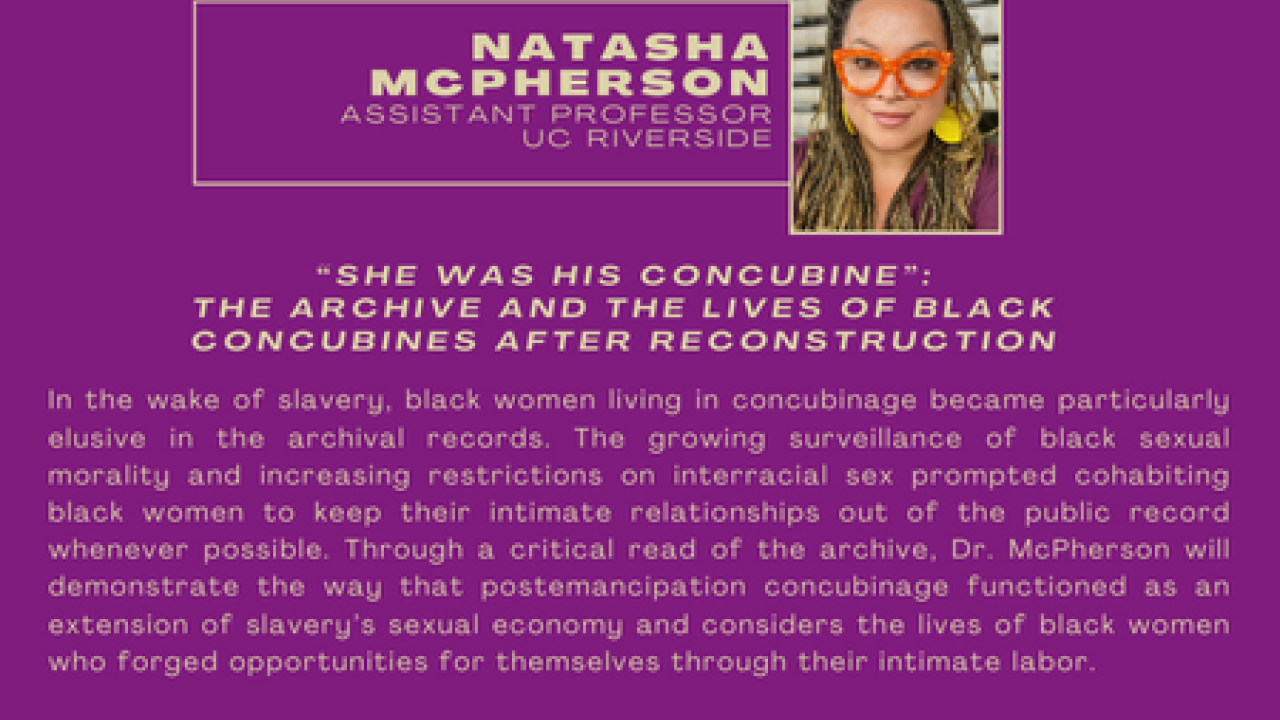 Location
Andrews Conference Room, Social Science & Humanities Building
"She was his Concubine": The Archive and the Lives of Black Concubines After Reconstruction
The Junior Faculty Exchange program is UC-wide initiative in which junior faculty members visit other campuses and deliver lectures based on their work. It aims to connect junior faculty across campuses to encourage professional connections and further research.
In the wake of slavery, black women living in concubinage became particularly elusive in the archival records. The growing surveillance of black sexual morality and increasing restrictions on interracial sex prompted cohabiting black women to keep their intimate relationships out of the public record whenever possible. Through a critical read of the archive, Dr. McPherson will demonstrate the way that post-emancipation concubinage functioned as an extension of slavery's sexual economy and considers the lives of black women who forged opportunities for themselves through their intimate labor.
Natasha McPherson is an Assistant Professor of African American History at the University of California Riverside. Professor McPherson received her Ph.D. in History from Emory University. Her research examines the lives of southern black women living in the wake of slavery and Reconstruction. She is currently completing her book manuscript, Women and the Making of Creole New Orleans. Professor McPherson's book examines Afro-Creole women's efforts in their households and neighborhoods to delay their own subjection as part of a collective, socio-political struggle in early Jim Crow New Orleans.
Event Category