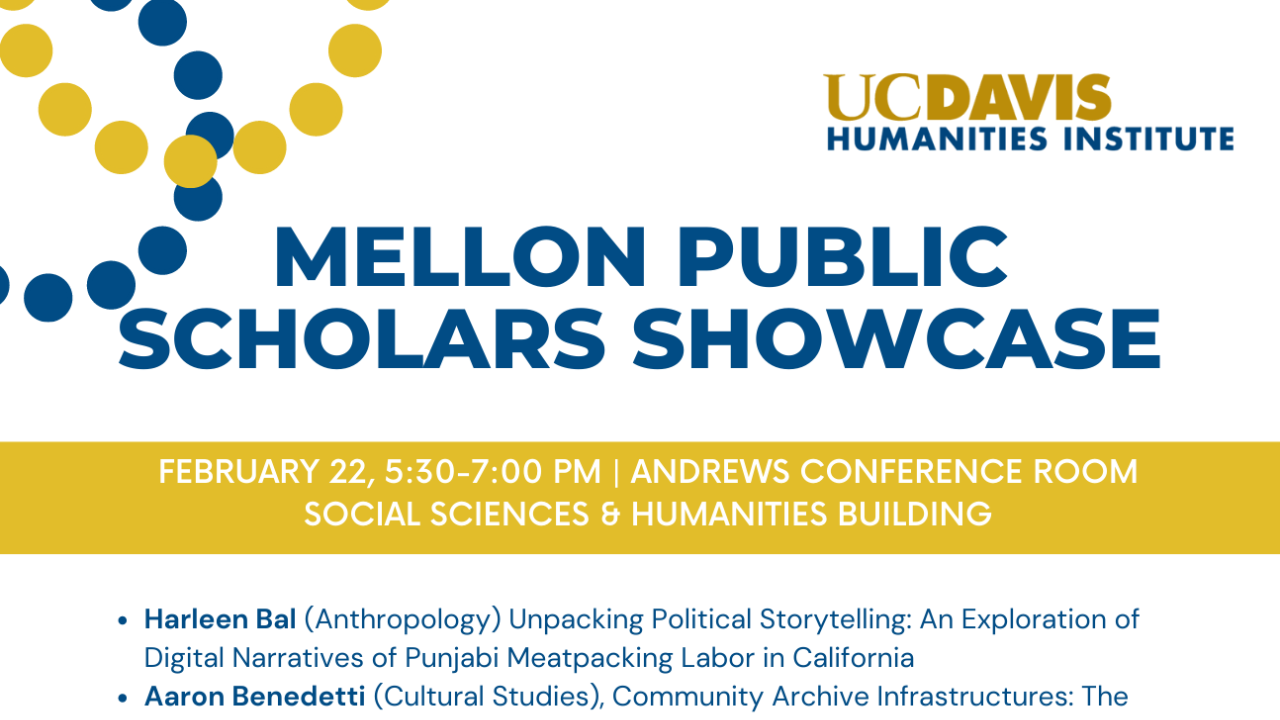 Location
Andrews Conference Room, Social Science & Humanities Building
The UC Davis Humanities Institute supported doctoral and MFA students in the arts, humanities, and humanistic social sciences through the Mellon Public Scholars program. The program introduced graduate students to the intellectual and practical aspects of identifying, addressing, and collaborating with members of a public through their scholarship. Ten successful graduate student applicants participated in a quarter-long, two-credit seminar in spring 2022. Each student worked with a faculty partner to develop a community-based research project and received a $7,500 stipend (with the possibility of supplemental project funds) to support the project over summer 2022. 
Congratulations to the 2022 Cohort of Mellon Public Scholars 
Last year's cohort represented seven departments from across the arts, humanities, and humanistic social sciences. They proposed a range of projects focused on Indigenous-led language recovery, Arab American Studies K-12 education, Hmong language education, Punjabi Sikh food and land practices, historic Chinese cookbooks, Quinault sound protocols, and much more.
Mellon Public Scholars created museum exhibits, curriculum, digital oral histories, cookbooks, multimedia websites, and helped organize community events. Two scholars were selected to work specifically with DHI community partners the City of Davis Arts & Cultural Affairs Program and International House Davis (see project descriptions below). 
Harleen Bal (Anthropology) Unpacking Political Storytelling: An Exploration of Digital Narratives of Punjabi Meatpacking Labor in California
Aaron Benedetti (Cultural Studies), Community Archive Infrastructures: The Lavender Library Oral History Project
Benjamin Fong (Comparative Literature), Home Style Cooking: A Cookbook Connecting Past and Present in San Francisco Chinatown
Rosemary Hannon (Performance Studies), International House Davis: Artist Liaison for 2022 International Festival
Tory Johnston (Native American Studies), Putting a Song on taptaanǝ: Quinault Musicking for Sound Healing
Beshara Kehdi (Cultural Studies), Arab American Studies K-12 Curriculum
Cole Manley (History), The Davis Centennial Seal
Kimberly Morales Johnson (Native American Studies), Developing a Tongva-led Archive for the Kuruvungna Springs Collection
Ingrid Sub Cuc (Native American Studies), Rutzib'axik Qach'ab'äl" Piloting the Application of Heritage Language Learning Methodologies in Two Kaqchikel Speaking Communities in Guatemala
Sun Ny Vang (Music),Seev Suab: Learning, Performing, and Creating Kwv Txhiaj & Lug Txaj
Last year's program was supported in part by the Andrew W. Mellon Foundation, but was ultimately made possible with the generous contributions of UC Davis Graduate Studies, the DHI Humanities & Arts Advisory Council, the Office of Public Scholarship and Engagement, and the College of Letters and Science.
The 2022 Mellon Public Scholars will be presenting their work on February 22nd, 2023, 5:30-7:00 PM. The presentation will take place in the Andrews Conference Room, Social Science & Humanities Building. Refreshments will be provided. 
View the virtual showcase here. 
Event Category