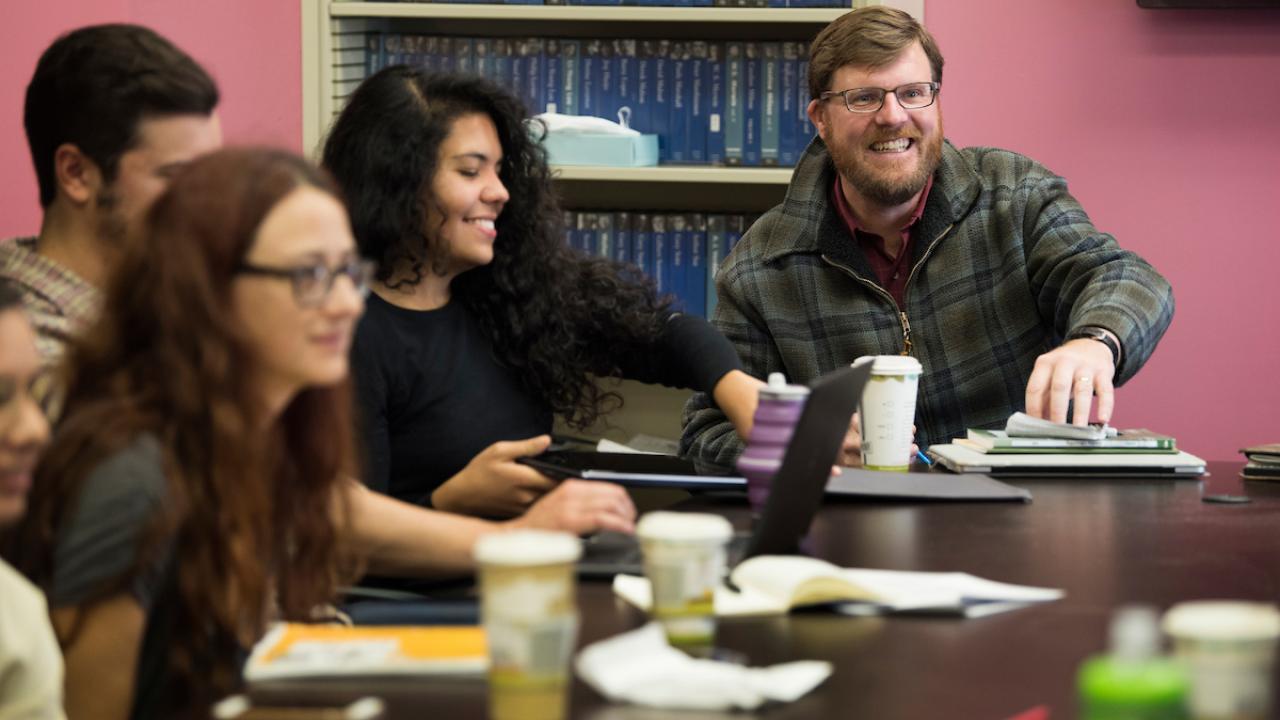 The Conversation, a series of public and campus events covering some of today's most pressing issues, will continue in the new year with four exciting new topics. This UC Davis Humanities Institute program brings campus scholars together with one another, the community, and students to discuss the topics that matter most at UC Davis and beyond. Winter and Spring quarters will each bring both a campus event especially of interest to undergraduates, and a public-facing event held off-campus.
On January 29th, the topic of the first Campus Conversation of 2020 will be Authoritarianism in Politics, featuring UC Davis faculty Edward Dickinson (History), Jenny Kaminer (Russian), Michael Lazzara (Spanish and Portuguese), and Lauren E. Young (Political Science). This event will consider the rise in political authoritarianism and the various threats it poses to democracies around the world. The event highlights authoritarianism's historical role in democracy—including the present impeachment moment— as well as authoritarian psychological tendencies and their relationship to racism. Experts on Nazi Germany, Russia and eastern Europe, Latin America (especially Chile), and Africa (especially Zimbabwe) will each address the political forces and erosion of democracy in these contexts. 
February 5th's public-facing Conversation, The Green New Deal: Policy and Climate Change, will address the congressional resolution that calls on the United States government to spearhead a global effort to reduce carbon emissions. Among the Green New Deal's promises are the creation of high-paying jobs in clean energy and clean air and water for all communities. Featured speakers at this event will include Michael Ziser (English) and Colin Murphy (Deputy Director, UC Davis Policy Institute for Energy, Environment, and the Economy). Ziser is faculty organizer of the DHI-sponsored Transcollege Research Cluster "Green New Deal and Just Transition," a collaborative interdisciplinary effort "to evaluate the promise of the 'Green New Deal' and to contribute to the process of critiquing, shaping, and materializing its stated goals and policies."
In Spring 2020, the Campus Conversation will take up the importance of addressing mental health issues for the campus community, while a public-facing Conversation event that quarter on Women and Elections will take this election year as an important moment to address the importance of women in politics and to examine gender in the culture of elections and political life. Watch the DHI website for more information about these events as spring quarter approaches.
This year's previous Campus Conversation event, Digital Ethics: Your Life on The Internet, happened on October 8 and featured four UC Davis faculty members, three of which have new or forthcoming books expanding on their research topics. Gerardo Con Díaz, Emily Merchant, Lindsay Poirier, all Assistant Professors of Science and Technology Studies, and Kris Fallon, Assistant Professor of Cinema & Digital Media, convened to discuss user rights online, the methods and claims of the digital humanities, the use of quantitative metrics to address urban problems, and image manipulation and the ethics of altering reality. That event was well-attended by UC Davis students who asked questions about digital privacy, how best to move forward with life on the internet, and how data collection practices harm and help society. 
The Conversation: Winter 2020 Events
January 29th: Authoritarianism in Politics. 12:10-1:30pm, SCC Multi-Purpose Room 
February 5: The Green New Deal, Policy and Climate Change. 5:30-7:00pm, Odd Fellows Lodge (415 2nd St., Davis)