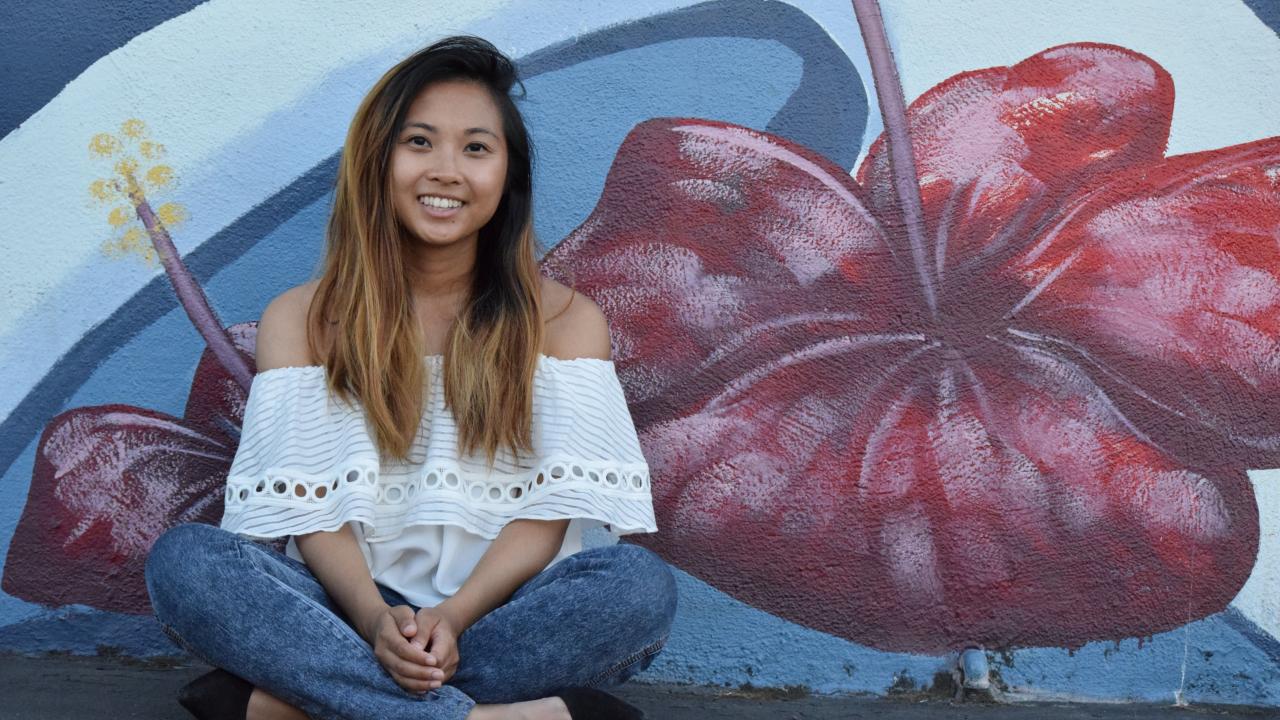 Katherine Nasol, PhD student in Cultural Studies and 2019 Mellon Public Scholar, is a community organizer at heart. As an undergraduate at Stanford, she says, "I didn't think I would touch research, because I was interested in social justice issues and supporting queer and trans communities of color." But then, in the process of developing an honors thesis about trafficked Filipinx migrants in the US and Hong Kong, she was introduced to community-based research. "I realized that community-based research is needed for social movement building and social justice," she said. Over the summer of 2019, a Mellon Public Scholars grant allowed Nasol to continue this movement-building work with two organizations fighting to strengthen and protect their communities.
"Rise, Resist, Unite: The Stories of AAPI Women and Girls" is a story-gathering project Nasol co-developed with AAPI Women Lead. That organization's goal, according to its website, is "to strengthen the progressive political and social platforms of Asian and Pacific Islander communities in the US through the leadership of self-identified AAPI women and girls [and] to challenge and help end the intersections of violence against and within our communities." 
Nasol had known she wanted to work with AAPI Women Lead since 2018, when she attended an event in their Movement Building series and heard AAPI women and gender expansive people discuss their experiences with interpersonal and systemic violence. With the support of a Mellon Public Scholars grant, Nasol analyzed story cards gathered by the organization, coding them to identify themes. "The cards were really moving and also really difficult to get through, since I was reading people's stories of trauma and abuse. But I also learned about their healing, both individually and in community, as well as the affirmations they tell themselves to get through moments of despair," Nasol reflected. 
The stories were showcased at the organization's second leadership and movement building conference. At that event, organized around the hashtag #ImReady, AAPI Women Lead used a transnational lens to expand the #MeToo movement conversation, focusing on how gendered violence intersects with colonization.
Meanwhile, Nasol was also working with the UC Davis Bulosan Center for Filipino Studies, where she holds the position of Policy Director. In that capacity she was approached by Migrante Napa-Solano, who needed support with research and legislative advocacy to protect the residents of a Vallejo housing complex. The residents, largely Filipinx migrant women, had been given 60 days' notice of a 110% rent increase. Nasol joined Migrante's effort, calling for the Vallejo City Council to put a moratorium on rent increases over 10%. Migrante's advocacy contributed to Assembly Bill 1482, a statewide rent control bill that, when it becomes law in January 2020, will protect California tenants from rent increases above 5%.
Her work as a Mellon Public Scholar has changed Nasol's dissertation research. She is now focusing on the Bay Area housing crisis and will use Vallejo, one of the fastest-growing rental markets in the country, as a field site. This fall she has begun ethnographic fieldwork there, gathering oral histories of the growing tenants' movement. Her experience with AAPI Women Lead has impacted her dissertation as well, encouraging her to understand the issues uncovered in her research through the lens of gender.
Nasol's work with these two organizations helped her better understand the intersections between the abuses they are fighting, which has strengthened her activism and her scholarship. "Women of color are often the most rent burdened," she said, further reflecting that sexual violence and tenant abuses are both results of power gone unchecked. "Working with these two organizations helped me look at gendered violence beyond sexual violence to understand how violence is experienced where we live. This summer gave me new ways of thinking about what my community is experiencing and the different ways we are fighting back." 
Readers who want to know more about the organizations mentioned here can follow AAPI Women Lead and Migrante Napa-Solano on social media. To learn more about Mellon Public Scholars at UC Davis, visit the program website.