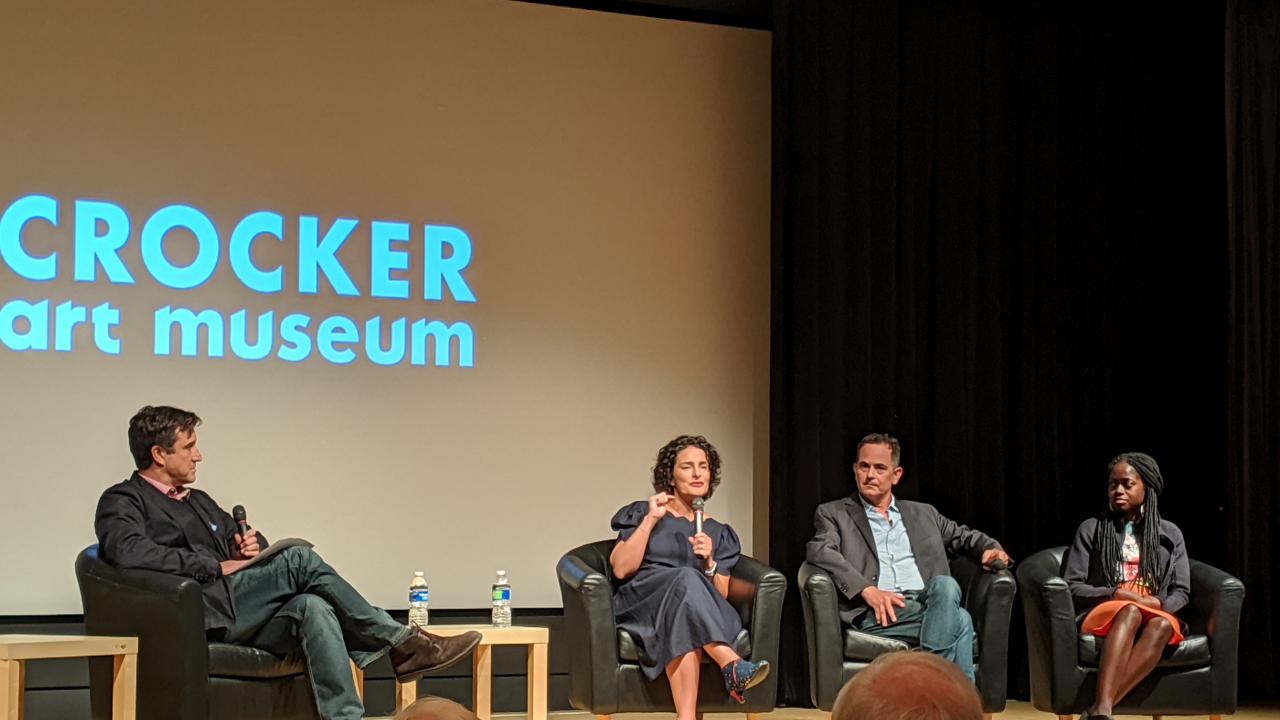 "This is not a film about taxes," read the sign over filmmaker Jason Cohn's desk during the production of The First Angry Man. The film, which tells the story of 1978 California Proposition 13, its leading proponent Howard Jarvis, and the tax revolt movement that accompanied its passage, premiered in Sacramento on October 24 at the Crocker Art Museum as the conclusion to the 2019 UC Davis Human Rights Film Festival.
Through archival footage and interviews, filmmakers Cohn and Camille Servan-Schreiber build a sociopolitical timeline of California's last 40 years, with Prop 13 at its core. Prop 13 limits property taxes on all real estate in California—both residential and commercial—and requires a two-thirds legislative majority for all state tax increases. Its 1978 passage reverberated throughout California and the nation, as other states followed suit and passed tax legislation that would supposedly reduce the burden on the American middle class.
While the political rhetoric surrounding Prop 13 and similar legislation insisted that it was designed to benefit working Americans, The First Angry Man calls Prop 13 "a Trojan horse to lower corporate taxes" at the expense of workers. Cohn and Servan-Schreiber's film shows that Prop 13 has contributed to widening wealth disparity and its impact on California's public infrastructure has lasted decades. The film also argues that white racial anxiety was responsible for the tax revolt movement, which encouraged white people to take their money out of public infrastructure just as people of color began to benefit from that funding.
After the October 24 screening, Cohn and Servan-Schreiber, along with activist and economist Joelle Gamble who is featured in the film, joined UC Davis Humanities Institute Director Jaimey Fisher onstage for a discussion and Q&A. Cohn and Servan-Schreiber, who met as students at UC Berkeley, said that the idea for the film arose a decade ago during the peak of California's budget crisis. "As a native Californian, I always thought of California as the greatest state. I wondered how this could have happened," Cohn said. Servan-Schreiber added, "We kept having conversations that would end with Prop 13. So we thought, maybe that's where our film should start."
Audience feedback at the Crocker event represented both sides of the Prop 13 debate. David Wolfe, legislative director for the Howard Jarvis Taxpayers Association in Sacramento, complimented the film's use of archival footage but was concerned that it blamed too much of what was perceived as wrong with California public infrastructure on Prop 13. Cohn and Servan-Schreiber agreed that not all of the state's problems can be blamed on Prop 13 itself, reiterating that their hope in making the film was to capture how the proposition catalyzed a social movement which has since shaped California politics and everyday life.
For example, footage of student protests highlights Prop 13's role in tuition hikes at the University of California campuses, which worsened as UC's student population became more diverse. Gamble, a student at UCLA during the film's production, says in the film that when she began organizing students she was angry with the UC Regents for raising tuition. "But then I learned that the Regents were just reacting to fiscal policy coming out of Sacramento," Gamble explains. She learned that the tuition hikes could be traced back to Prop 13. 
Another audience member expressed identification with Prop 13 proponents, saying, "I feel like I'm being taxed to death." In response, Gamble acknowledged that because paychecks have not kept pace with worker productivity, "A lot of people feel squeezed right now." Cohn suggested that it was not taxation itself that caused this feeling, but the lack of a progressive tax structure. Servan-Schreiber added, "The tax burden is really not fair. The richer you are, the smaller the burden is."
According to Fisher, this film and venue were chosen for the Human Rights Film Festival with the hope of generating conversations like this. "We try to program films at the Crocker that will have special appeal, and relevance, for the Sacramento audience, especially as it relates to state employees and policy. It is not a coincidence that some of Proposition 13 will be up for reconsideration this election. To be able to play these kinds of films in Sacramento emphasizes the public-facing program the DHI is trying to highlight."