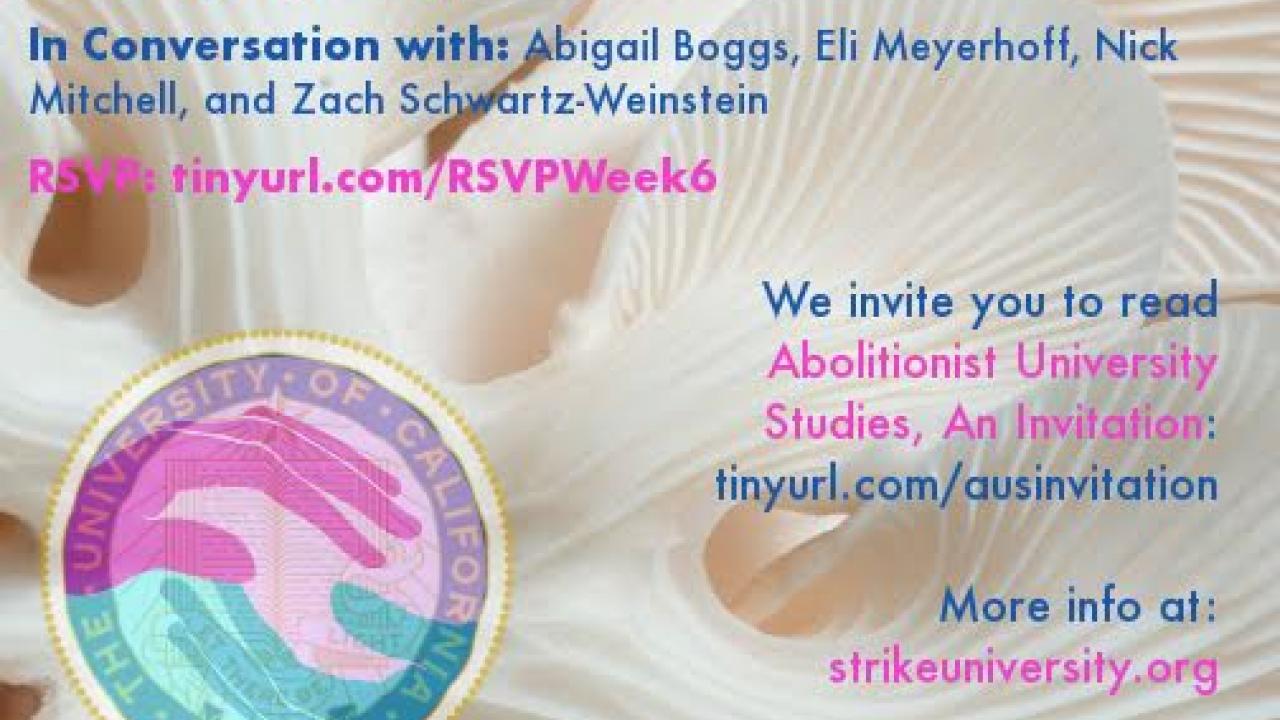 Location
Online (link to RSVP below)
HATCH: Feminist Art and Science Shop and Strike University co-present:
Abolitionist UC: Beyond the Carceral/Racial Capitalist University
Facilitators:

 A UC Cross-Campus Conversation with Abigail Boggs, Eli Meyerhoff, Nick Mitchell, and Zach Schwartz-Weinstein, authors of 

Abolitionist University Studies: An Invitation

.
Event Details:

 Let us reimagine the possibilities of the university. We can be sure that the university is doing just that in the shadow of Covid-19, and so must we. The Abolitionist University Studies (AUS) invitation is a generative framework for this project. AUS takes inspiration from Moten and Harney, who write: "Not so much the abolition of prisons but the abolition of a society that could have prisons, that could have slavery, that could have the wage, and therefore not abolition as the elimination of anything but abolition as the founding of a new society."





What would a university that is committed to this mission look like? What would a university committed to mutual aid and social welfare look like? How can UC students reimagine and demand the university that we deserve? We invite you to read the invitation linked above, and to come join us in this exploratory conversation towards an abolitionist UC.





We hope this will be the first in a series of conversations and actions that work towards enacting our abolitionist visions of supplanting / remediating / queering / decolonizing the university. 
Event Category
Tags