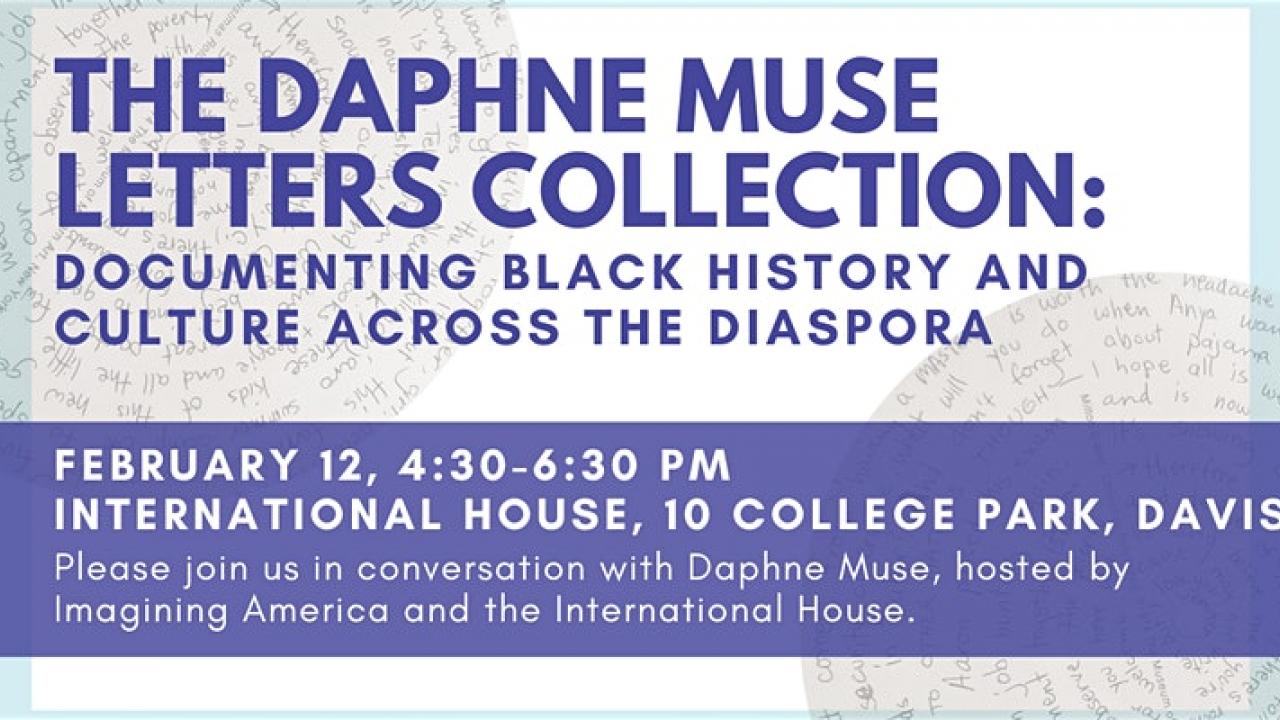 Location
International House, 10 College Park, Davis CA 95616
The Daphne Muse Letters: Documenting Black History and Culture across the Diaspora. Please join us in conversation with Daphne Muse.
Daphne Muse is an activist, writer, educator, movement elder and cultural broker. Her collection of more than 5,000 letters documenting Black life and culture across the diaspora from 1958 to the present includes correspondence from activist Angela Davis, comedienne Richard Pryor, President Barack Obama, the San Quentin Six, author and poet Alice Walker and leaders in the Black Arts, Pan African and Civil Rights Movements.
Register here: http://bit.ly/2Rjt7jJ
Event organized by Imagining America: Artists and Scholars in Public Life and hosted by International House. Co-sponsored by UC Davis Public Scholarship and Engagement, Feminist Research Institute, African & African American Studies Department, American Studies Department, Office of Research and Policy for Equity. 
The Imagining America consortium (IA) brings together scholars, artists, designers, humanists, and organizers to imagine, study, and enact a more just and liberatory 'America' and world. Working across institutional, disciplinary, and community divides, IA strengthens and promotes public scholarship, cultural organizing, and campus change that inspires collective imagination, knowledge-making, and civic action on pressing public issues.
By dreaming and building together in public, IA creates the conditions to shift culture and transform inequitable institutional and societal structures.
Event Category