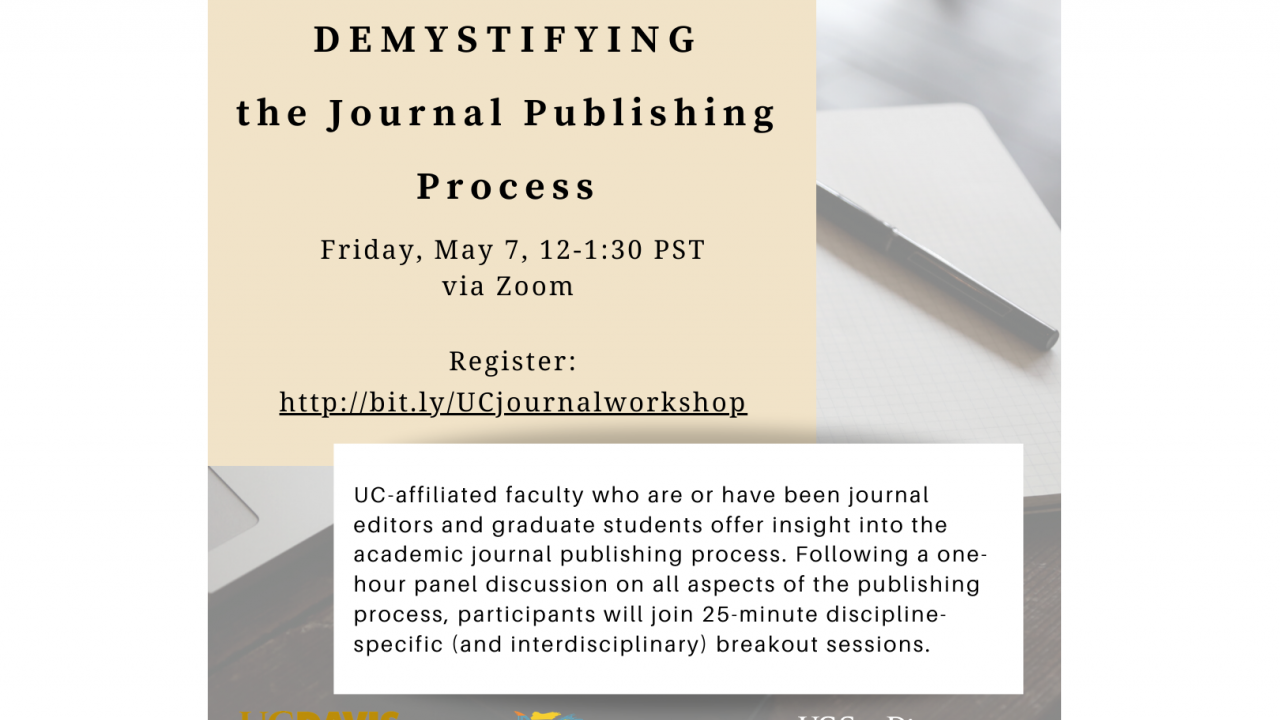 UC-affiliated faculty who are or have been journal editors offer insight into the academic journal publishing process. Following a one-hour panel discussion on all aspects of the publishing process, participants will join 25-minute discipline-specific (and interdisciplinary) breakout sessions.
Panel presentations (Zoom Webinar):
1. Where are journals going? Erich van Rijn, Director of Journals and Open Access, UC Press.
2. How to identify a journal in which to publish? Melissa Wilcox, Professor, Religious Studies, UC Riverside. Founding co-editor, QTR: A Journal of Queer and Transgender Studies in Religion; Associate Editor, Journal of the American Academy of Religion; editorial board member, American Religion; Advisory Board member, Religious Studies Review. Former editorial board member, Religion and Gender, Contexts, Nova Religio, Qualitative Sociology, Sociology of Religion.
3. How do you know when your work is ready to submit? Sven Spieker, Professor, Germanic and Slavic Studies, UCSB. Editor of ARTMargins.
4. Contacting editors, timelines, and the mechanics of submission. Brad Prager, Professor, German Studies and Film Studies, MU, editor at New German Critique, and Humanities (open source).
5. What do these reviews mean? What does "revise and resubmit" mean? What does "reject" mean? Sander Goldberg, Distinguished Professor, Classics, UCLA. Former editor, Transactions of the American Philological Association (now simply TAPA). Former editorial board, Helios, Classical Journal, Bryn Mawr Classical Review
6. How should I handle conflicting reviews? Jonathan Alexander, Chancellor's Professor of English and Informatics, UC Irvine. Former General Editor of College Composition and Communication. Former General Editor of The Journal of Bisexuality.
7. How to promote the publication? Judy Tzu-Chun Wu, Asian American Studies, UCI, editor of Amerasia Journal and co-editor of Women and Social Movements in the U.S. since 1600-2000.
8. Student support strategies. What are the general expectations for publication rate and when to publish? What have the surprises been thus far? Rena Goldstein, PhD student, Philosophy, UCI; Mads Larsen, PhD student, UCLA, department of European Languages and Transcultural Studies, review editor for literary studies at Evolutionary Studies in Imaginative Culture. 
Breakout Sessions (Zoom) (subject to change):
1. Art History: Sven Spieker 
2. German, Film Studies, Open Source: Brad Prager
3. Classics: Sander Goldberg
4. English; Sexuality Studies: Jonathan Alexander
5. Religious Studies; Queer, Trans, and Gender Studies: Melissa Wilcox
6. Asian American Studies; Women's Studies; History: Judy Wu
7. Publishing with UC Press: Erich van Rijn
8. Strategies and Advice from Advanced Graduate Students: Rena Goldstein and Mads Larsen
This event is jointly sponsored by the UC Davis Humanities Institute, the UC Irvine Humanities Center, and the UC San Diego Institute of Arts and Humanities.
Event Category