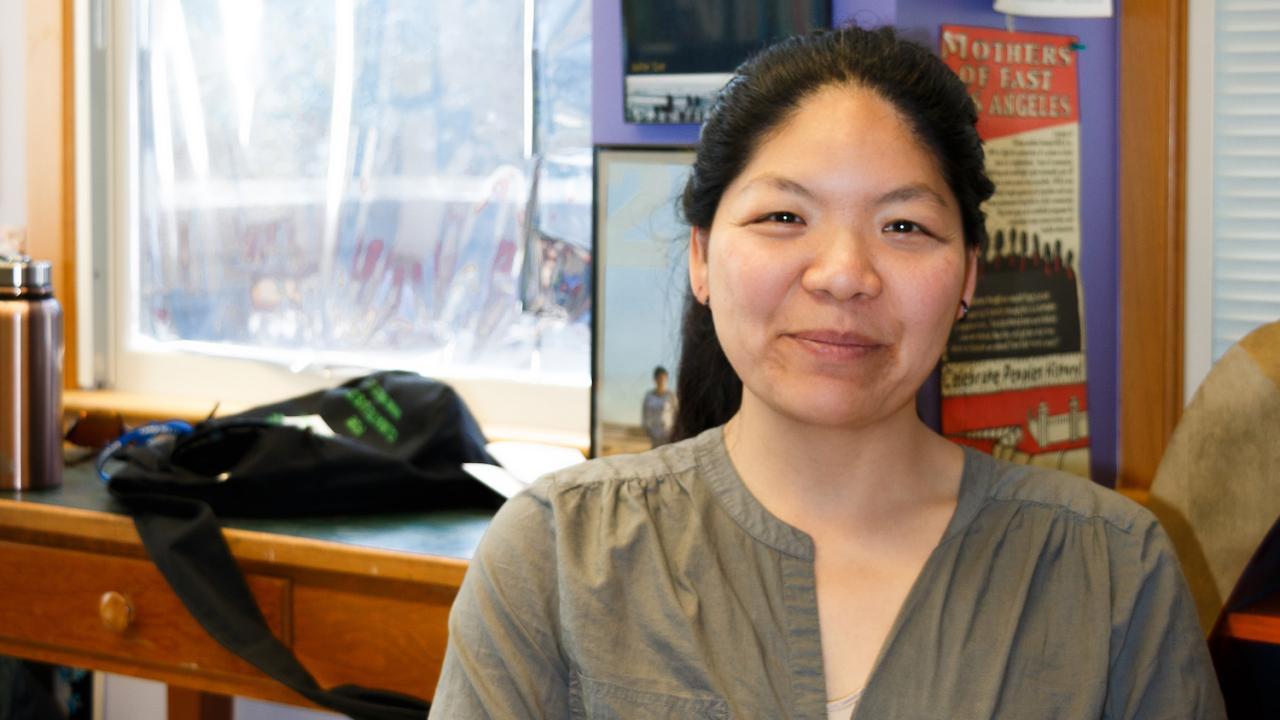 Our first Book Chat of 2021 featured Professor Julie Sze, who spoke about her recent book, Environmental Justice in a Moment of Danger (University of California Press, 2020) on February 10, 2021. Sze is Professor of American Studies at UC Davis and the founding director of the Environmental Justice Project for UC Davis' John Muir Institute for the Environment. Environmental Justice in a Moment of Danger, which is a "product of 27 years of research," synthesizes various aspects of the environmental justice movement, from Standing Rock and Flint to Kivalina and Hurricane Maria. In keeping with Sze's scholarship and other work, the book is meant to be useful to a broad audience. "It is precisely now that imagination and action become essential," Sze argues in the book's introduction (Sze, 1). This orientation defined the Book Chat just as it did the book. 
"My intention," she writes, "is to offer a starting point for those interested in particular struggles and to link these together as they have been linked by activists themselves, to spark imagination and hope" (Sze, 23). In conversation with Davis Humanities Institute Director and Professor of Cinema and Digital Media and German Jaimey Fisher, Sze explained that she "wanted to write a readable book that could be taught and used in different ways." The result is a big-picture book that presents an overview of the field, informed by all sorts of frames ranging from early "work in quantitative sociology" to activism that Sze was involved with in Berkeley in the 1990s to Sze's contemporary collaborations with UPROSE and the Community Water Center. 
The current moment of danger is also one of radical hope. The book discusses both what is at stake and what we can learn right now. During the Book Chat, Sze emphasized that she thinks environmental justice movements are important to look at in this regard, as they have challenged the idea that movements are separate. "That's why, for me," she explained, "environmental justice movements have to be reappraised for what they can offer in this moment we are in now." Sze further noted, "I think now more than ever there's a sense that problems are interconnected." Between the emergencies of the COVID-19 pandemic, racial justice movements like Black Lives Matter re-galvanized by the murder of George Floyd last summer, and the wildfires in the Western United States last fall, people have been increasingly recognizing to a vast degree the interconnectedness of struggles across themes, fields, and experiences. "Many people have always suffered and many more people are feeling the suffering," Sze said of the last year. Environmental justice offers stories of non-naive, radical hope with which to face and mitigate that suffering. For instance, Elizabeth Yeampierre at UPROSE talks about how climate justice has to be full of life and represent the people it represents. 
In the face of crises like the fast violence—where "there's an actual start point that you can identify; there is an agent, and you can say, that is what happened"—of toxic water in Flint and the slow violence—Rob Nixon's term for violence, often environmental, "that is neither spectacular nor instantaneous, but instead incremental, whose calamitous repercussions are postponed for years or decades or centuries" (Dawson 2011, n.p.)—of similarly-polluted water in the San Joaquin Valley, environmental justice offers a route toward better living conditions for many humans and nonhumans. In Sze's words, "what environmental justice gives us is a sense of urgency, but also a way out of the urgency through solidarity." Instead of despairing and falling into nihilism, people confronting the suffering of the multiple and often overlapping crises of the twenty-first century and the legacies it encompasses can practice solidarity and effect tangible change. 
When an attendee asked for resources for those who want to get involved, Sze mentioned that climate justice groups she really admires are supporting a People's Green New Deal. For instance, the Climate Justice Alliance offers The People's Solutions Lens for a Green New Deal. Locally in Yolo County, Sze named groups like Mothers Out Front and numerous churches. She noted that wherever the people are, there are actions to get involved with. "Ultimately what I argue in the book," Sze said, "is that environmental justice is a freedom movement." These networks and many more pose ways to do that liberatory work. 

Keep an eye on our YouTube channel for the event video.
Category
Tags