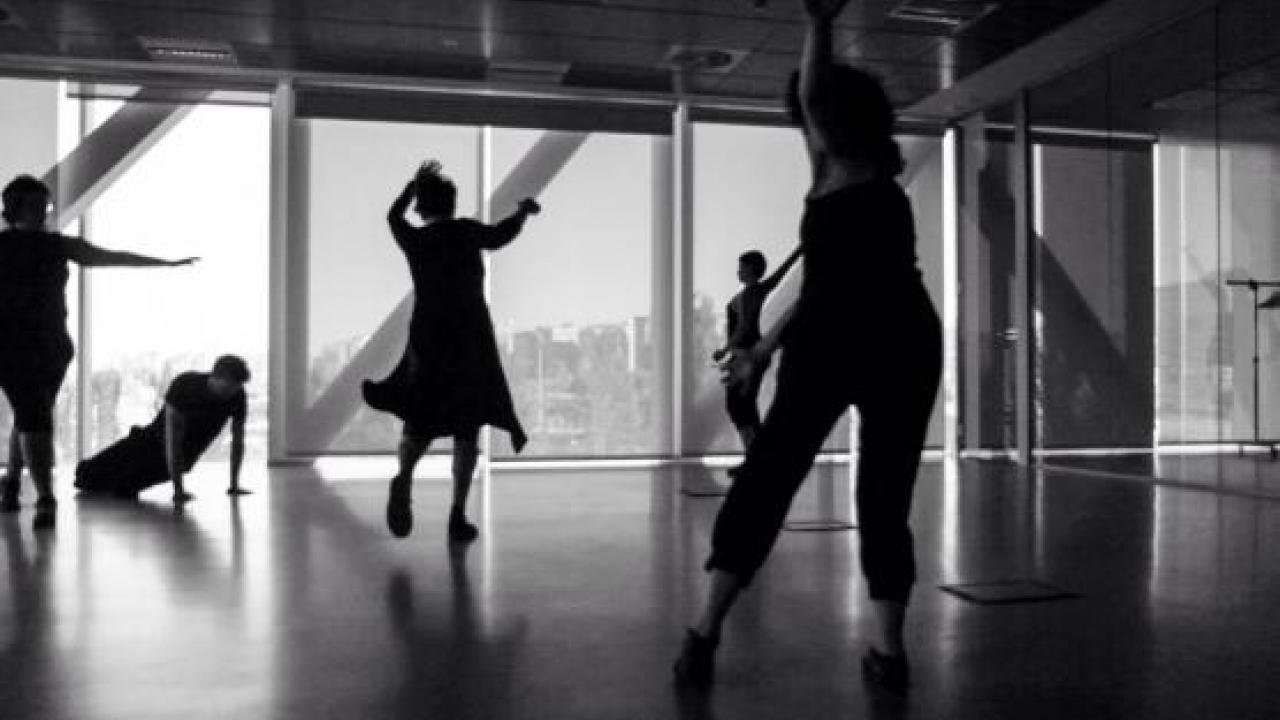 On Thursday, October 17, Caro Novella invited participants in her Health Activism Performance Lab to unsettle the "relations that cohere certain objects of knowledge" through movement, sensation, and collaboration. 
Novella is an artist-researcher and PhD candidate in Performance Studies at UC Davis. Her work uses rehearsal as method to investigate cancer and trans feminism in projects such as oncogrrrls; Scoring Cow; and cosensing, we are already silkworms. Her performance lab was presented by HATCH: Feminist Arts and Science Shop, a Mellon Research Initiative. Using interdisciplinary methods and feminist research in and beyond the academy, HATCH creates encounters for creative and just pedagogies addressing democracy and knowledge-making to unfold. And unfold we did.
As a participant in the workshop, I (and others) began with free movement, using the floor of the Della Davidson Performance Studio, moving around, making sounds, and getting to know our bodies in the space. The somatic experience engendered in me a different orientation to knowledge than the ones I usually employ in my scholarship, and I quickly found myself thinking about new inroads to my project.
After warming up, Novella asked us to engage with our care objects—an item we brought to the workshop that represents how we care about health issues—with our eyes closed. I don't know if you've ever spent twenty minutes trying to figure out how to feel with a plastic ballpoint pen—my care object of choice, since I write about marine debris as gendered violence—but I can tell you I went through a whole round of sensations thinking about the additives in the current iteration of the carbon object I was twiddling between my fingers, clicking, clacking on the floor, tossing up in the air with my eyes still shut, dragging it across the floor, and so on and so forth.  
We were then asked to work with another participant with one care object between the two of us. For me and my partner, this resulted in tossing a bottle of pills back and forth, making a game out of handing it to each other, and seeing how we could move while each holding the bottle with one hand. In a particularly synchronized moment, the two of us lay down on the floor, parallel to one another, silently, on our backs, without looking at each other, and with the same pacing, with the bottle held between us. 
Finally, the care objects were shifted around the room, such that everyone was working with a different care object than the one they began with. We repeated the first care object-interaction process and then drew our interactions with the object on big shared pieces of paper laid out on the floor. During the transcription of the movement practice to paper, we noticed that certain qualities of the objects—or our relationships with the objects—had transcended themselves across people engaging with them: a pink running shoe maintained vibrant energetic qualities that appeared in its visual transcription; an orange and blue hardback book was documented in a series of leaping shapes on the paper. 
This process reflected one of the key phrases posted on pillars in the room: to transpose. Somehow, through our bodies, we had managed to transpose certain modes of meaning in the performance lab. We were collaborating not just with one another, but with the materials and, indeed, the whole environment that surrounded us. 
After a conversation, finally using language to discuss what health activism meant to us—grappling with various cancers, genocidal racism, a person's right to choose regarding pregnancy, a question of what the environment consists of—we took a pause, introducing ourselves before moving into our final exercise. For our last exercise, we divided into two groups and developed a "score," or set of actions to take together. We built our scores around questions of the individual and the structural in environments and how to navigate structural forces on scales that are so often represented as individual. 
These exercises demonstrated that some of the ways in which a physical, interactive art practice can bring up new ideas through relationships in a group. In Novella's words, "in the emergence, the group can make new possible connections, and a certain kind of knowledge-making contagion occurs... In these processes, my hope is that the group negotiates new meanings and understandings for 'health.'"
Category