The Solace and Joy of Manetti Shrem Museum At Home
"Loss. Loneliness. Claustrophobia. Agoraphobia. Freedom. Lifted-spirit type of feeling. Melancholy and joy—maybe in the same piece," painter Mary Heilmann explains in a video featured in the Manetti Shrem Museum's new newsletter, Manetti Shrem Museum At Home. Heilmann is describing the range of emotions she works to evoke in her abstract paintings, but she could just as well be naming what we are all feeling lately, separately but together, in our homes.
Like museums around the world, the Manetti Shrem Museum at UC Davis has developed a way to allow community members to engage with its collections virtually while sheltering in place. Manetti Shrem Museum At Home features long reads about the museum's collections and exhibitions, videos of interviews with campus artists, and ideas for making art at home.
"While we hold to the power of real objects and gathering in physical space, we are seizing the opportunity to increase our reach to those who may not visit museums and seeking to bring art out to those who find solace and joy in the experience," said Randy C. Roberts, the museum's Deputy Director, about the project.
The newsletter's most recent issue focuses on "pivotal moments" when UC Davis artists "defied conventional wisdom, took chances, and explored new directions." An essay by art critic and novelist Peter Plagens discusses the "secret sauce" that made the founding faculty members of the UC Davis art department so distinctive. Also featured is an appreciation of the work of Roy De Forest from Friday's New York Times, which describes how even online, his sculptures and paintings feel like an "irreverent, relentless visual cornucopia."
According to Roberts, this week's theme grew from the museum team's own effort to adapt to exceptional circumstances. "We've been talking a lot in the museum about needing to pivot, not panic, in these times when our regular way of working no longer works. We've been inspired by the models of creative adaptation across the university—faculty who have moved to teaching remotely in a matter of days, research programs that have shifted in real-time to studying COVID-19, commencement moved on-line," Roberts said.
Manetti Shrem Museum At Home can be unfamiliar, exciting, and cozy, sometimes all at once. In a short documentary about UC Davis faculty member and sculptor Annabeth Rosen, her process is intensely meditative and her sculptures vibrate with urgency—fitting for a moment when the world feels both slower and more panicked. I was soothed watching Rosen manipulate the clay, and also surprised to realize I had been seeing her strange and striking work almost daily on my socially distant walks and runs. Temporary Building 9, where Rosen works on campus, borders the UC Davis Arboretum.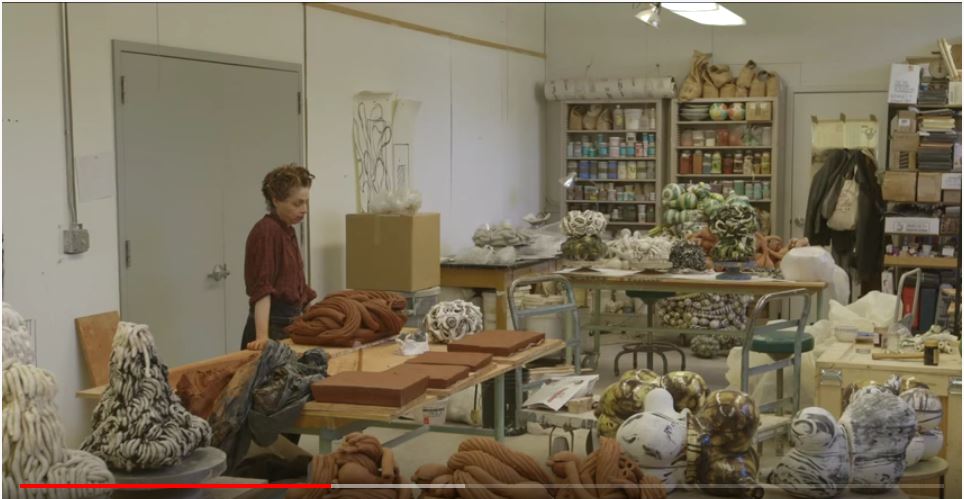 TB 9 is famous as a hub for the 1970s Conceptual art movement in California: something else readers can learn about in Manetti Shrem Museum At Home. In "Proof of concept: UC Davis artists' vital role in California Conceptualism," Constance Lewallen situates the work of Stephen Kaltenbach and other UCD-affiliated artists like Bruce Nauman within the movement. Conceptual artists "rejected traditional modes of artmaking, de-emphasizing the creation of saleable paintings and sculpture in favor of works that privileged the concept and/or the process of art making," Lewallen writes. Unlike their East Coast counterparts, California Conceptualists often used humor in their art, and according to Lewallen, "were more likely to make work that was based on the body as a viable material and tended to draw their lives and art close together."
Lewallen's essay is just one example of how the wide and deep context made available by the online medium enriches the experience of viewing art virtually. In an essay on Stephen Kaltenbach's Portrait of My Father by renowned curator Lawrence Rinder, an image of Kaltenbach's iconic work from 1972-1979 is accompanied by photographs that provide insight into the artist's process. Readers can view photos of Kaltenbach's three-dimensional Lucite studies, the unfinished painting in progress, and the artist in his studio: a barn located between Winters and Woodland.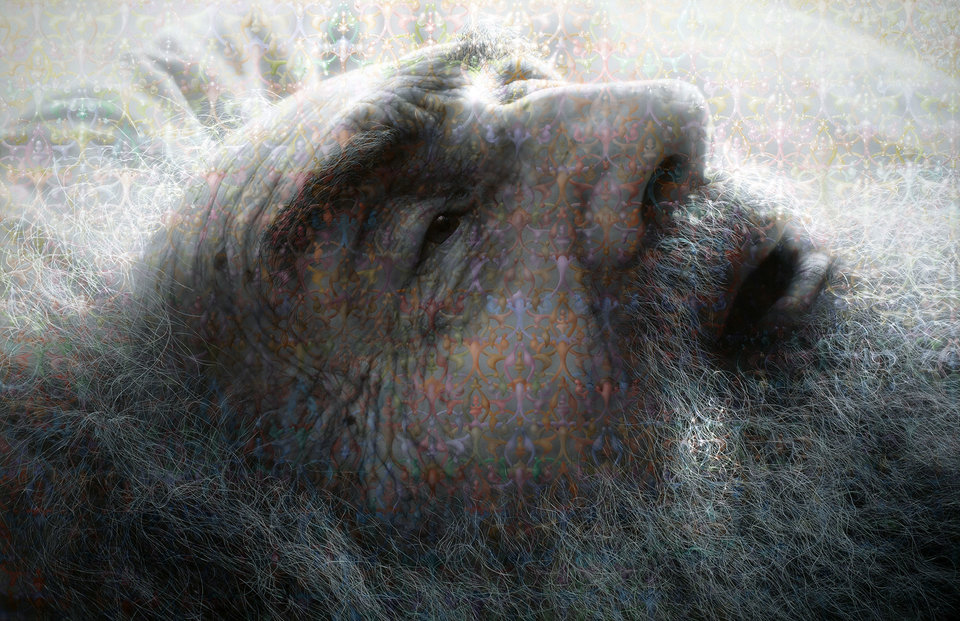 We go to museums to be physically present with works of art. But even when physical proximity isn't an option, Manetti Shrem Museum At Home shows how art can provide much-needed "sustenance and sparkle."
You can subscribe to Manetti Shrem Museum At Home here. The Mondavi Center is also joining the effort to bring the arts online during this unprecedented time: see their list of upcoming virtual concerts.
Primary Category