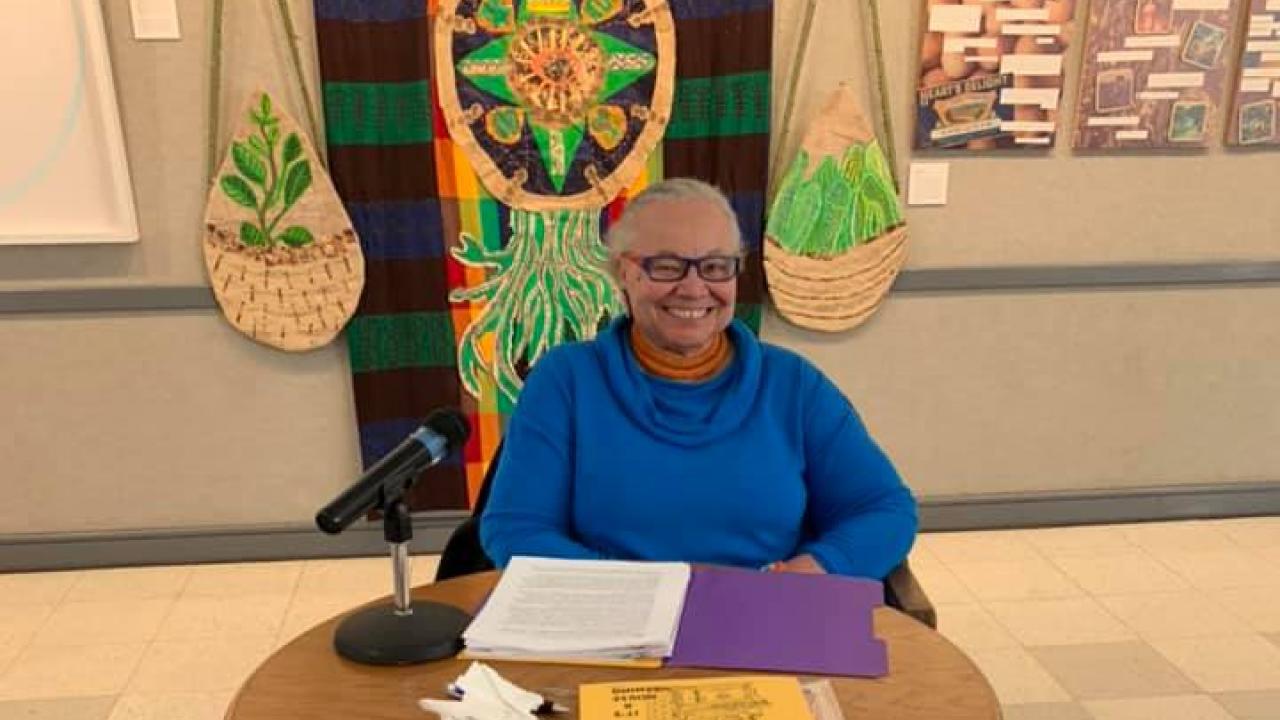 Longtime activist and self-described cultural broker Daphne Muse began her recent talk by thanking historian Carter G. Woodson, who in 1926 founded Negro History Week, the precursor to Black History Month. Then, to a packed room at International House Davis, Muse drew from her own extensive archive of correspondence with leaders in Black life and culture to show the power of archives to bring history into the present. 
At the event, which was organized by Imagining America, Muse described how the drive to document and preserve Black life began when she saw how the museums that ostensibly showcased human history had violently erased the lives of Black people. When she saw displays of African art at the British Museum in 1971, "I remember asking if the British left any of the sacred vessels, masks, and furniture on the continent. I was simply appalled at the level of looting," Muse remarked.
Her archival project was also an activist project that insisted upon the value of remembering Black life and movement organizing. Muse described seeing George Washington's teeth, which are reported to have been harvested from the mouths of enslaved Africans, on display at the Smithsonian National Museum of History. She explained, "For me his dentures were a turning point in asking how value is placed on history and who places it. That moment I made a strategic decision to engage in and access every piece of Black life and culture I could."
Muse's Oakland home was a cultural hub and refuge for 39 years. It was there that Muse held Alice Walker's first Bay Area book party, sheltered Jackie Robinson's daughter as she prepared for a baby, and hosted a six-year-old Tupac Shakur along with his mother and sister. Rosa Parks stayed for a week in 1980: Muse described how Parks carefully sewed a button that had popped off Muse's young daughter's dress.
Muse's collection of correspondence, which she has cultivated since 1958, includes over 5,000 letters from leaders in the Civil Rights, Pan-African, and Black Power movements that shaped the 20th century. One letter from SNCC leader Charlie Cobb describes his trip to Dar Es Salaam, where Cobb was setting up a publishing arm of his bookstore Drum and Spear. Laughing, Muse read a note from the FBI agent who targeted her because she worked at Drum and Spear: the note instructed Muse to "call the FBI" and left a phone number and extension. "I hope he's still waiting by that phone," Muse said.
Another letter from Amy Jacques Garvey, the wife of influential and controversial Black nationalist Marcus Garvey, provides insight into Jacques Garvey's own activism, which Muse said was overshadowed by her husband's misogyny. Later in the evening Muse showed slides from her collection of ephemera, which includes an ashtray from a ship that was part of Marcus Garvey's ill-fated Black Star Line.
In 1971-72, Muse acted as secretary for the Angela Davis Legal Defense, a role that involved, in part, gathering personal items to bring to Davis in jail. Muse read a letter from Davis that reveals some of the texture of everyday life amid the pursuit of revolutionary change. In that letter, Davis thanks Muse and asks her to bring "a big stack of envelopes" for the 10-15 letters Davis wrote each day from jail. Memorably, the letter ends: "P.S. Thanks for the Tampax." 
Among the most remarkable letters in Muse's collection is from her close friend Jennifer Lawson, a groundbreaking former PBS television executive who is Muse's longest-standing correspondent. Muse held up an image of a 45" record on which Lawson had painstakingly written a letter in the round. The letter's content, which Muse said included advice from Lawson about how to care for herself amidst professional challenges, echoed the obvious care Lawson took in writing it.
In a post-talk Q&A with UC Davis archivist Kevin Miller, Muse called on the UC Davis community to make use of the UC Davis Special Collections holdings, which include research-level collections of materials from the social movements of the 20th century. She re-emphasized the importance of archives for making the work of past activists accessible to those continuing the work in the present. "No matter how they try to suppress history, history blooms through the concrete." 
Much of Muse's own collection is available to researchers at UC Berkeley's Bancroft Library and Emory University.
This is the second part in our series on community events highlighting Black womxn and femmes this Black History Month. Read last week's article here.
Category